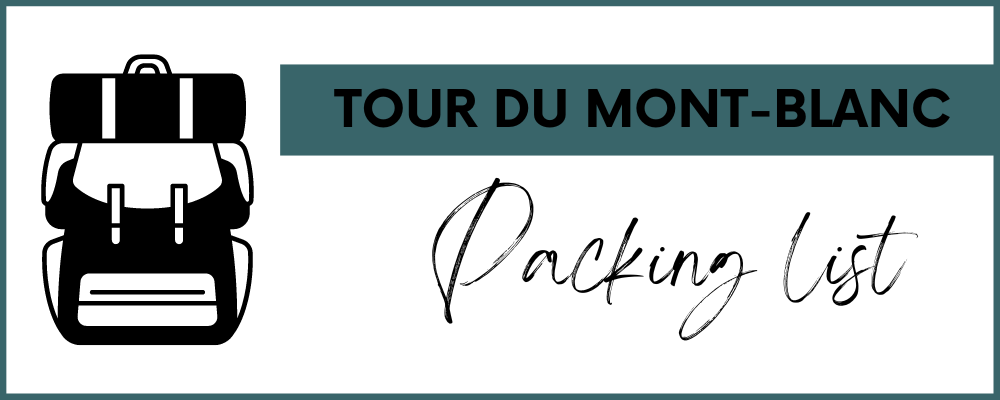 The equipment list for the Tour du Mont-Blanc needs to be carefully considered.
In the mountains, the weather can change quickly. The azure blue sky of the morning can quickly become cloudy, if it is favored by a high altitude wind that brings humid air masses. 
It is also possible that warm temperatures saturate the atmosphere with humidity, which then, favors stormy episodes. It is also possible to face winter conditions, such as morning frosts or the presence of snow from 1800m.
Finally, we can also fear a rainy day and see our temerity rewarded by an unexpected sunny day and a sky that clears completely a few hours later…
When you go to the mountains, you must systematically consider the Hot, the Rain, the Cold. Your backpack must always contain what you need to deal with these three possibilities.
Weight / efficiency dilemma
The water bottle, the picnic, the snacks, the camera, the binoculars,… are elements that are added.
A backpack fills up quickly, so it is a question of optimizing the weight/efficiency ratio of the textiles and equipment that you take with you.
When backpacking with assistance and transfer of bags, it is much more obvious to minimize the weight of your daily bag. 
Without this assistance, the bags are more consequent, it will then be necessary to consider washing by hand your belongings in order to reduce as much as possible their number.

BACKPACK for a successful TMB
Recommended size : 30 liters / 40 liters
It should be a rucksack with a waistband to help distribute the weight and help your posture and back, and if you can get one with a chest strap even better. A really helpful extra is a built-in rain cover, although you can buy a waterproof liner bag to fit any rucksack too. 

HIKING BOOTS for a summer trek in the Alps
This is the most important accessory. A comfortable pair of shoes can make all the difference and on the contrary, unsuitable shoes can be a hindrance to your progress or even a reason to give up.
There are many models of walking shoes. Select shoes that offer ankle support and proper waterproofing. Nothing is more unpleasant than walking for hours in shoes soaked by rain or even morning dew.