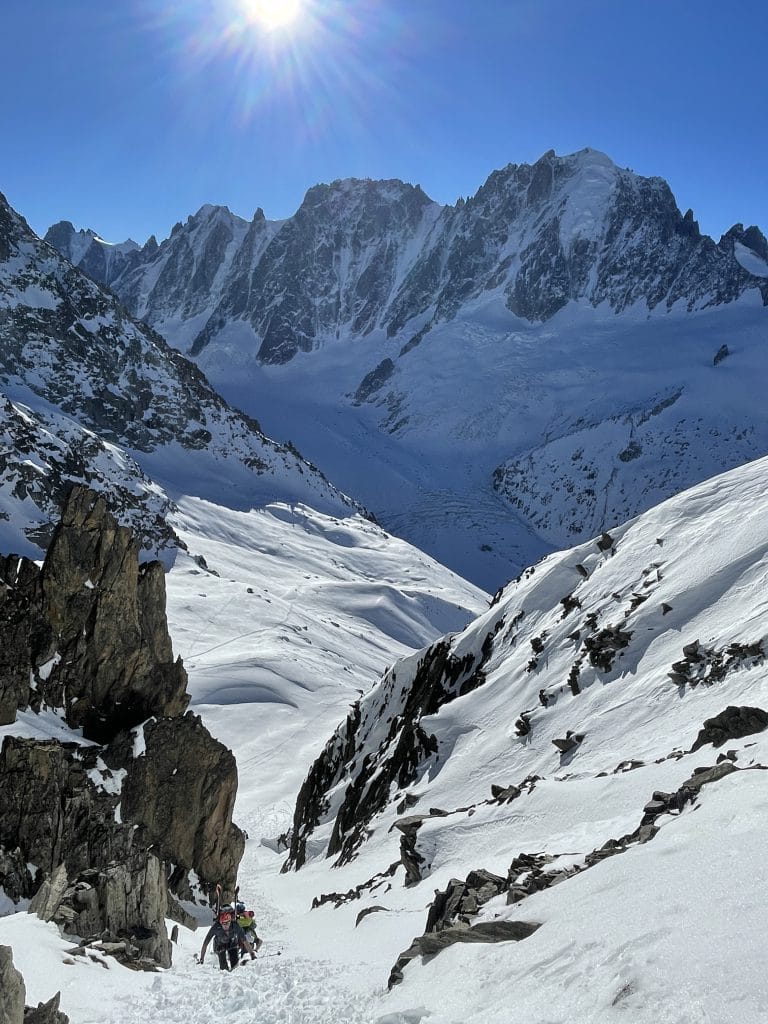 The anticyclone of January is well in place in the Alps and we are enjoying superb winter days.
Regarding snow conditions, it's a little more complicated 🤯 Northeast winds transformed a lot the last snowfall and it is a nightmare to find good snow!

Today, my feeling goes for a classic ski touring route with different options for the descent:
The Col du Passon.


We meet in front of Lognan cable car station, check our gear, our DVA (avalanche beacon) and off we go towards Argentiere glacier. As soon as we hit the sun, it's springtime! ☀️
David and Julian, 2 young Austrian doctors are very fit and we enjoy a climb in the sun in optimal conditions. The view and atmosphere of the Argentiere basin, that Julian and David are discovering for the first time, is just unbelievable, even when like me, you are used to it!
Going uphill, I'm starting to wonder if the sun will warm the south-facing slopes enough to have this nice soft unfrozen snow that we all love in the springtime! I will quickly get my answer while reaching the top of the final couloir looking at the Tour glacier.  We all agree:  we will take the risk even if the snow seems a little wind-blown. The scenery is fantastic and it's more fun to do a loop than skiing down the same way we just went up.  
The first turns are just mad!  Cinema snow! "Frisette" as we say in French!
We decide to go on the right side of the glacier. Less tracks and just feel we might find some good snow there!  
It's just perfect! Julian and David are delighted. So I am! 
See you next year guys, unless I'll decide to come visit you in Austria at the border with Slovenia!