We'll take care of organizing your 6-days/5-nights TMB. So, let you guided through its majestic landscapes!
The TMB (Tour du Mont Blanc) is an internationally renowned hiking trail. And its fame is well-deserved!
Every season, this itinerary brings emotion and satisfaction to novices and experienced hikers alike. It's the perfect blend of mountain and mountaineering landscapes : a wonderful natural show!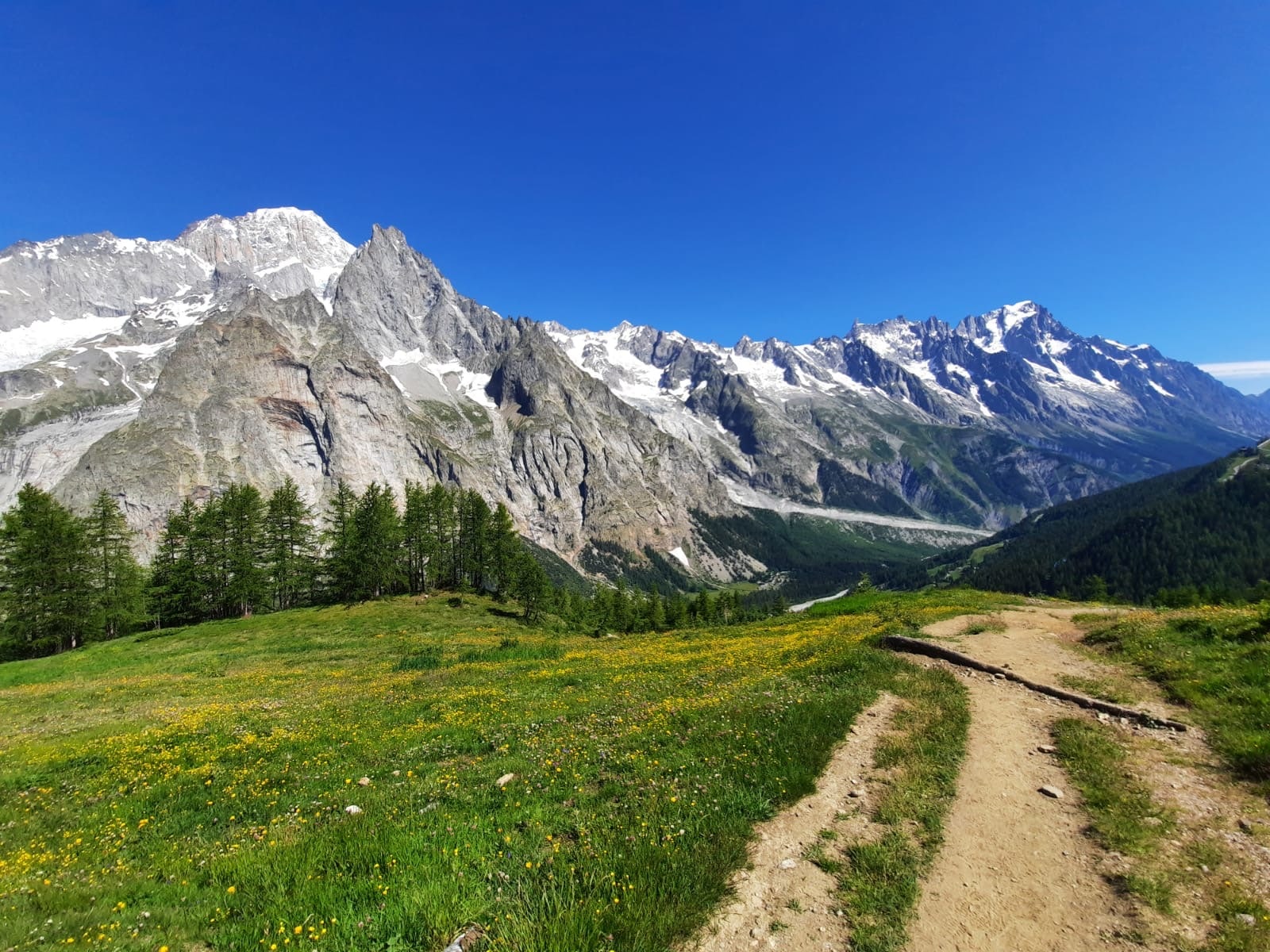 "When everything is increasingly planned, programmed, organized, being able to get lost will soon be a delight and an exceptional luxury." Gaston Rebuffat.
Searching Availability...
Tour du Mont-Blanc, 6 days-self-guided:
A guided tour, with complete autonomy!
Itinerary
Included / Not included
Options
Tips
Itinerary
Day 1: Les Houches – Les Contamines (France)
Let's go ! Here you are at the beginning of your Tour du Mont-Blanc, at the foot of the Bellevue cable car in Les Houches, which you will surely take (one way cable car included) with many mountaineers as it is also the starting point of the famous Mont-Blanc ascent.
From the top of the cable car, you will hike under the Bionnassay glacier to the Col du Tricot to discover a magnificent view of the Contamines-Montjoie valley.
You will then start your descent towards the Chalets de Miage and the village of Contamines-Montjoie where you will spend the night.
Approximate distance : 11km – Elevation gain & loss: +640m / -1280m.
Day 2 : Les Contamines – Les Chapieux (France)
From the village of Les Contamines-Montjoie, you will head today towards the hamlet of Notre-Dame-de-la-Gorge (where the asphalt road ends).
From the chapel, continue to the Refuge de Nant Borrant and Refuge de Balme and then continue to the Col du Bonhomme (the Col du Bonhomme is a great place to have a picnic). In the afternoon, you will descend to the hamlet of Les Chapieux, where you will spend the night.
Approximate distance: 19km – Elevation gain & loss: +1360m / -970m. 
Day 3 : Les Chapieux (France) – Courmayeur (Italy)
Today your path takes you out of France as it leads you to Italy!

You will start your hike in the direction of the Ville des Glaciers and then the Col de la Seigne from where you will reach the Italian border. The pass itself offers a superb view of the western face of Mont-Blanc, the wildest and most isolated face.
From there you descend to La Visaille (Val Veny) at the end of the Miage glacier where you will take a local bus to the village of Courmayeur. You will have time to enjoy this alpine village with a dinner on your own.
Approximate distance: 20 km – Elevation gain & loss: +1060m / -970m.
Day 4 : Courmayeur (Italy) – Champex (Switzerland)
This morning you will take the local bus from Courmayeur to Arnouva (Val Ferret), starting point of your hike. The path leads you to the Rifugio Elena, where we recommend you to enjoy a last espresso before going to the Grand Col Ferret, the Italian-Swiss border

The view from this point is breathtaking: turn around and have a last look at the Italian side of your Tour du Mont-Blanc.
You will then descend to the village of La Fouly, where you will take a local bus to Champex, the village where you will spend the night.
Approximate distance : 15 km – Elevation gain & loss : +820m / -985m.
Day 5 : Champex – Trient (Switzerland)
Departing from Champex, you will continue to enjoy this picturesque area beginning with an hour and a half of easy hiking along the "cattle road" that ranchers once used to guide their cattle through the mountains.
Continuing through the hilly terrain, you enjoy views of the Dents du Midi and climb through the forest to lookouts over the beautiful Rhone Valley and the town of Martigny.
You then descend to the Col de la Forclaz and then to your accommodation in Trient.
Approximate distance : 15 km – Elevation gain & loss : +830m / -1020m. 
Day 6 : Trient (Switzerland) – Chamonix (France)
Your last day of hiking takes you back to France!

From Trient, you will walk to the Col de Balme, the border between Switzerland and France. Enjoy the phenomenal views of Mont Blanc before an easy descent to Montroc. From there, you will have to take a local bus to Chamonix.
End of your trip.
Approximate distance: 14 km – Elevation gain & loss: +1130m / -1040m. 
Note: the itinerary, distances and altitudes may vary slightly for many reasons beyond our control, including weather and terrain conditions.
Please also be aware that self-guided trek involves your own responsibility for the route you choose and the choices you make on the trails. We will provide you with a roadbook, map and GPX tracks but you will be hiking every day on your own and we cannot be responsible for the decision and events that may occur during your hike.
Included / Not included
Options
Tips
We consider the difficulty level of the TMB to be "elementary". The TMB is therefore a demanding tour. Some stages are long (Day 2: 20km, 2300 meters of elevation gain), and our programs include a minimum of six consecutive days of walking, that is to say a minimum total distance covered of 95 kilometers and a minimum total elevation gain of 10,500 meters).
It is therefore highly recommended to prepare yourself physically and logistically.
A physical training: The quality of your physical condition influences the success of your hike as well as the pleasure you get from it. It is therefore necessary to plan a regular physical training adapted to the practice. You must walk and/or run regularly in order to develop your resistance to effort, endurance and intensity. By carrying out day trips that offer an equivalent or more demanding level of difficulty. By multiplying the experiences that reinforce our aptitudes, skills and even promote the acquisition of new skills (varied terrain, rocks of all sizes, steeper slopes, presence of snow…) By diversifying the practice environments and modes of execution. By forcing one's talent, one increases one's physical level, technicality and accumulated experience.
Logistical preparation: This is an important element that should not be ignored! Our list of "typical" equipment that will be given to you at the time of your registration will be of good advice.
Free hiking: For all those who leave without a guide, here are some additional tips. Choose a hike at your level, measure your physical and technical abilities. Study your itinerary and take advice from competent organizations if necessary. Be attentive to all the information in our roadbooks, know how to turn back in case of difficulty or change in weather conditions.
In case of an accident, react quickly! Stay calm. Analyze the situation.
In case of hesitation or uncertainty about your abilities, your knowledge of the terrain, the environment, the management of your trek, choose our guided programs.
And above all! Keep your good mood and your smile in all occasions!
The mountain is a particular environment, which we need to discover and understand with a lot of patience, humility and with a limitless curiosity, because it is impossible to anticipate and predict. 
And it is this motivation that leads us to the mountains! Because in our lives and our daily lives, which are too often confined and sanitized, we sometimes feel the need to get out of our comfort zone.
And the mountain is the ideal playground and expression. First of all, it is a grandiose natural setting which, whatever the altitude, allows us to experience a multiplicity of landscapes, giving us a feeling of well-being and accomplishment with each new experience. It is then an environment that conditions our activities, because they must adapt, by innovating their processes in a permanent concern of awakening, attention and observation.
So we find in the mountains, the conditions of a life and practices that must adapt and anticipate. Here we are, potential actors of a life that has become exciting in a unique natural environment: isn't that a bit like freedom?
Yes, the mountain is dangerous. The cold, the altitude, the relief, the weather, the tiredness, the glaciers, the avalanches are only parameters and/or events related to the environment, which like the sun and the fresh air characterize the mountain environment. The mountain is no less dangerous when you are not there! It is therefore our own actions and decisions that condition the degree of exposure that we wish to " confront ", " experience " and/or " tolerate ".
The relief, the weather, the altitude are some of the natural elements that one must know and understand well in order to increase one's level of practice while reducing one's own (and the other practitioners') risk of exposure to dangers.
One's own physical and technical capacities are a parameter that should never be ignored or overestimated!
So to resume:
"The mountain is neither just nor unjust, it is just dangerous" R. Messner: That should never be forgotten!
But we feel good there because " The mountain offers to the man, all that the modern world forgets to give him " B.Vian : That is essential !
And to conclude, and to present our state of mind, "The virtue of a mountaineer is to never exceed his own limits while always advancing his own experience" W. Bonatti