Packing list for a tour du Mont-Blanc
PACKING LIST FOR A TOUR DU MONT-BLANC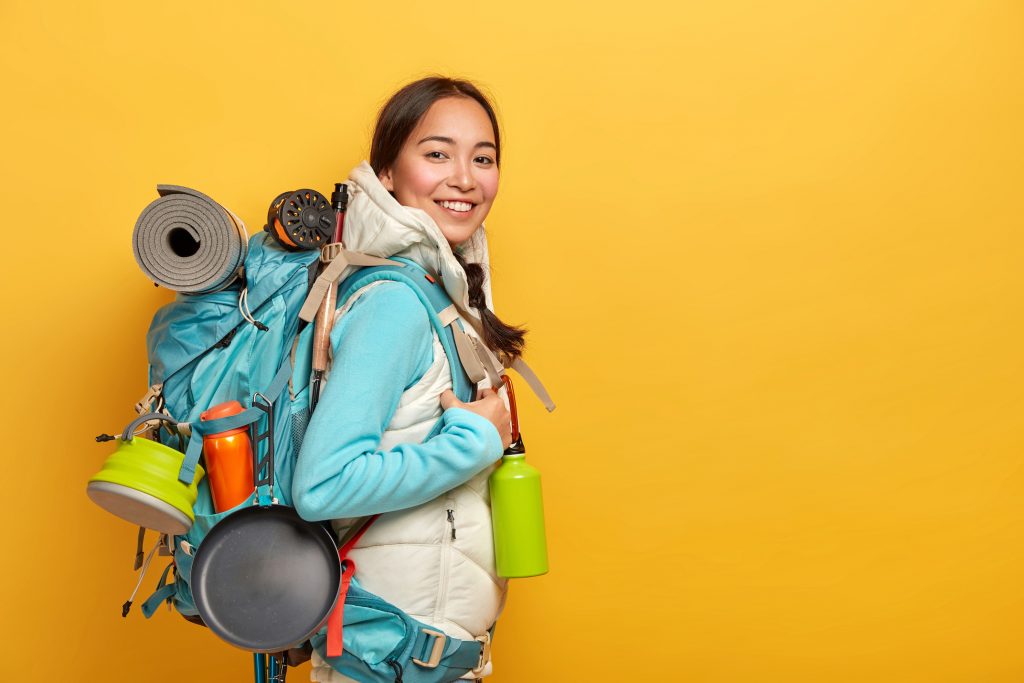 Your equipment list to go on the Tour du Mont-Blanc needs to be carefully considered. The tricky thing while hiking in the summer in the Alps is that the temperature can be very hot but also very cold. It can vary from one extreme to the other in a few days.
Keep in mind that when you go to the mountains, you must systematically consider the Hot, the Rain, the Cold. Your backpack must always contain what you need to deal with these three possibilities.
Find below what what we consider to be the appropriate equipment :
◻️  Base Layer Short Sleeves Tops (Synthetic)
---
◻️  Base layer long sleeves tops (synthetic)​
---
◻️  Mid-layer top (eg. fleece) or a light down jacket​
---
◻️  A pair of shorts​
---
◻️  A pair of long underwear​
---
◻️  A pair of hiking pants​
---
◻️  3 pairs of hiking socks (prefer synthetic or merino wool)​
---
◻️  Waterproof and breathable jacket​
---
◻️  Rain cap​
◻️  Telescopic walking poles (optional but recommended)
---
◻️  Lip balm​
---
◻️  Ultra-light shower kit (toothbrush, toothpaste, shower gel/shampoo or soap (can also be used for washing clothes))​
---
◻️  Synthetic "dry-fast" towel​
---
◻️  Phone and charger​
---
◻️  International plug adaptor​
---
◻️  Rechargeable battery​
---
◻️  A little washing detergent for hand washing clothes​
---
◻️  A light pair of gloves
---
◻️  Cap or beanie
---
◻️  Sunglasses
---
◻️  Water bottle or hydration bladder(1,5L)
---
◻️  Waste bag
---
◻️  Sun cream
---
◻️  Pocket knife and fork
---
◻️  Headlamp
---
◻️  Rescue blanket
---
◻️  Small first aid kit (paracetamol, blister prevention/treatment, sticking plasters, etc. bring your personal prescription treatment if you have one)
---
◻️  Take cash (euros & swiss francs: most mountain huts don't accept cards)
---
◻️  Passport or identity card
---
◻️  Insurance to cover any search, rescue or repatriation costs (take the policy number and emergency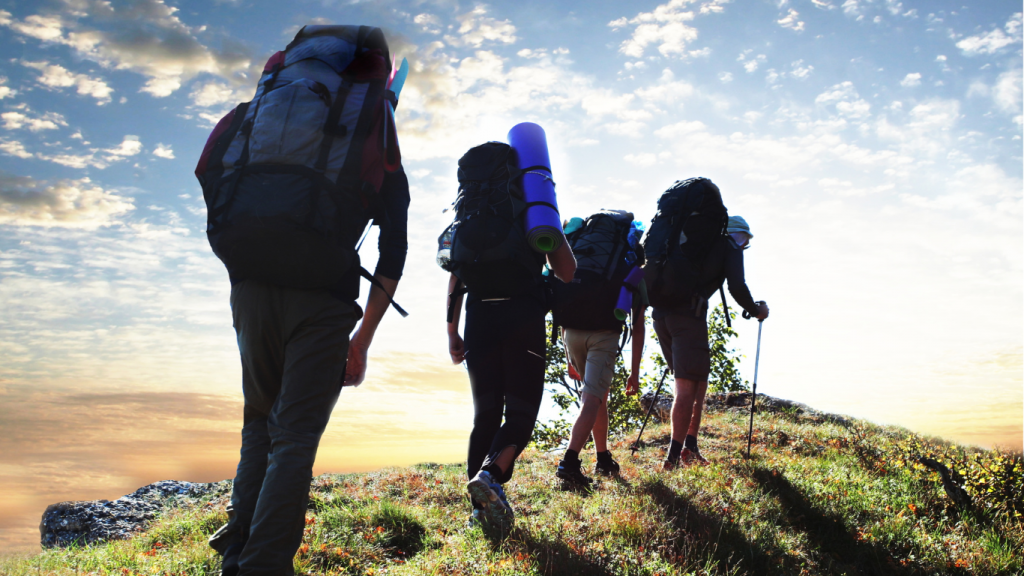 TIPS: Remember to distribute the weight inside your backpack and adjust it properly so that it is your hips that carry the weight rather than your shoulders. This tip may seem insignificant at first, but it is essential on multi-day hikes. 
Recommended size : 30 liters / 40 liters
It should be a rucksack with a waistband to help distribute the weight and help your posture and back, and if you can get one with a chest strap even better. A really helpful extra is a built-in rain cover, although you can buy a waterproof liner bag to fit any rucksack too.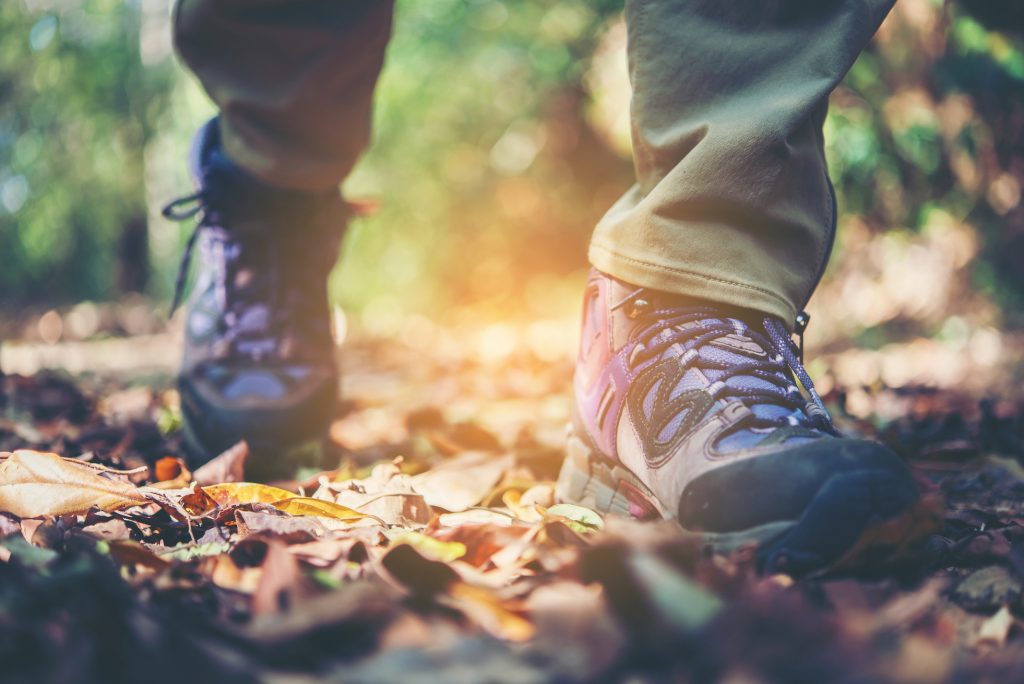 TIP: Go on a trek with shoes that you have already tried beforehand and with which you are sure not to get blisters.
This is the most important accessory. A comfortable pair of shoes can make all the difference and on the contrary, unsuitable shoes can be a hindrance to your progress or even a reason to give up.
There are many models of walking shoes. Select shoes that offer ankle support and proper waterproofing. Nothing is more unpleasant than walking for hours in shoes soaked by rain or even morning dew.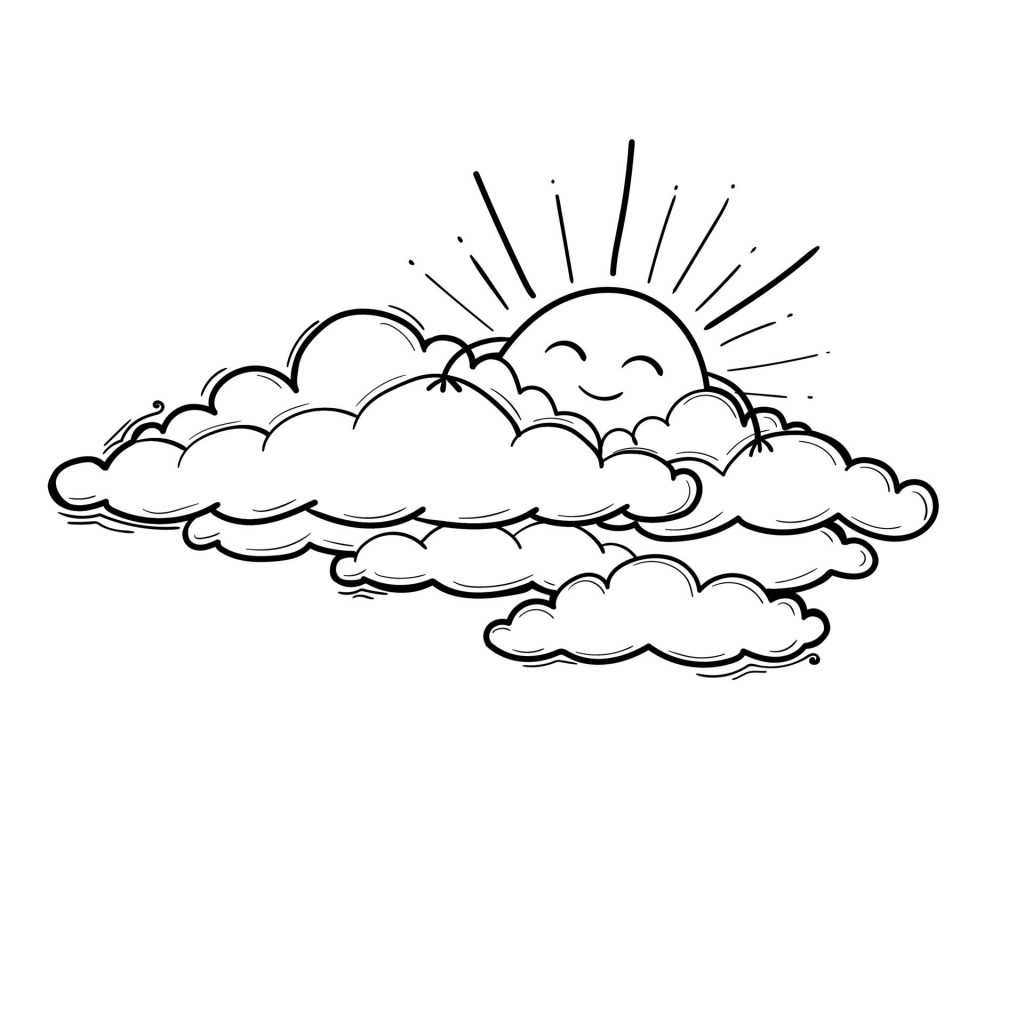 In the mountains, the weather can change quickly. The azure blue sky of the morning can quickly become cloudy, if it is favored by a high altitude wind that brings humid air masses. 
It is also possible that warm temperatures saturate the atmosphere with humidity, which then, favors stormy episodes. It is also possible to face winter conditions, such as morning frosts or the presence of snow from 1800m.
Finally, we can also fear a rainy day and see our temerity rewarded by an unexpected sunny day and a sky that clears completely a few hours later…
The water bottle, the picnic, the snacks, the camera, the binoculars,… are elements that are added.
A backpack fills up quickly, so it is a question of optimizing the weight/efficiency ratio of the textiles and equipment that you take with you. When backpacking with assistance and transfer of bags, it is much more obvious to minimize the weight of your daily bag. 
Without this assistance, the bags are more consequent, it will then be necessary to consider washing by hand your belongings in order to reduce as much as possible their number.
Any other questions about your adventure around Mont-Blanc?
The outdoors, and above all the desire to share them with you, prompted us to create our agency in 2019. 
Our primary aim is to help you make the most of the extraordinary experience the mountains can offer. Whether you're looking to recharge your batteries or challenge yourself physically, we've got the right activity for you! 
With passion, sharing and trust 🏔️
Let's go on an Adventure!