Monte Rosa is not a summit, it is a range, a group of many 4000m peaks situated between Italy and Switzerland. Among them, we find the famous Pointe Dufour, highest summit of Switzerland at 4634m, the Breithorn (4164m), one of the most accessible 4000m of the Alps, the famous Castor (4223m) and Pollux (4092m) and many other peaks. We can also find in this massif the highest hut of the Alps, the Margherita hut at 4554m!
Monte Rosa area is a perfect place for mountaineers willing to "taste and try" some altitude glacier ascents. Summits are for most of them technically easy and accessible. The challenge is to get use to the altitude and be able to keep on going. Following the border between Italy and Switzerland, we can enjoy the best of each countries, a sort of alpine cooking tour between rösti and spaghettis!!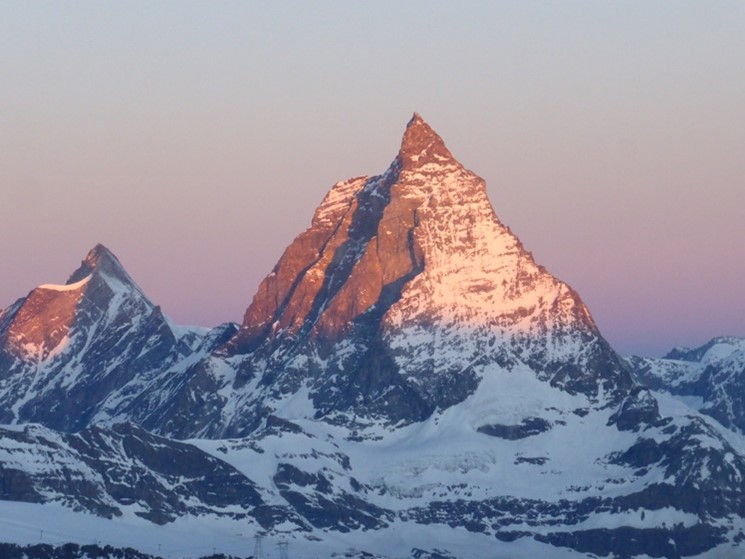 Searching Availability...
Itinerary
Included / Not included
Options
Details
Itinerary
This itinerary is not a complete tour of the Monte Rosa range. It is according to our experience the best way to have a full overview of what the area can offer. Great views, fantastic huts and some nice 4 000m peaks !!
Day 1 : Zermatt – Ascent of Castor 4 223m – Quintino Sella mountain hut 3 585m
We'll meet in Zermatt (or in Chamonix if you need a lift from Chamonix) early morning 7/8am. We'll check the equipment and take the lifts to the Klein Matterhorn. From there, we'll start hiking on the glaciers towards Castor. From the summit, we'll join Quintino Sella mountain hut by the Felik pass, 3 585m.
Elevation gain & loss : +600m, -800m
Accommodation: Half-board in Quintino Stella Hut –  included
Day 2 : Naso del Lyskamm 4 272 m – Citta di Mantova hut, 3 498 m
A fantatstic day starting from val d'Ayas to Gressonney valley. The Naso du Lyskamm can sometimes be a litle tricky depending on the conditions, but we'll take our time to make it safely.
Elevation gain & loss : +950m, -1 000m
Accommodation: Half-board in Citta di Mantova Hut –  included
Descending from Nazo, we'll walk by Pyramide Vincent, 4 215m. If we have time and motivation, we will give a go to climb our 3rd 4 000m peak !!
Day 3 : Ludwigshöhe 4 341m – Parrot Spitze 4 432 m – Signalkuppe 4 554m  – Zumstein 4 563m
What a plan!! All those peaks can be climbed from Citta di Montova, but no stress, we'll pick only the one you want to climb! We could also push further and have a coffee at the Magherita hut before going down to cabane Monterosa, 2 882m.
Elevation gain & loss : +700 to 1 200m depending on the peaks we decide to climb, -1300m
Accommodation: Half-board in Monterosa Hut –  included
Day 4 : Back to  Zermatt
Easy last day, with a late start (8am). From cabane Monterosa, we'll enjoy the sunset on the Matterhorn in front of us before heading to the Gornergrat train to Zermatt. It takes approximately 3 to 4 hours to be in Zermatt, meaning we should be there around midday.
Important : The above program is a plan that can be modified by the guide anytime according to weather conditions, technical and/or physical difficulties of the participants,… The guide is in charge of the safety of the party and he is the only one able to change the program to keep safety first!
In Italy, some summits are ruled by regional laws meaning that a mountain guide cannot, under any circumstances, take more people with him than allowed. This is why this tour cannot be done with more than 3 people.
Included / Not included
Options
Details