Climbing Mont Blanc at 4 810m of altitude during the day from the valley! What a great challenge!
3 800m of ascent, 3 800m of descent in 24 hour. The goal is not to be faster than Kilian Jornet (the round trip from Chamonix in less than 5 hours) but to reach the summit of Mont Blanc from Les Houches (1000m) without using the ski lifts and without sleeping. 
Before you sign up for it, please contact us so we can exchange and make sure you are ready for it. Mont Blanc is not trail running, it is mountaineering and even if we 'll do it in a "trail running style", the commitment is very different than a trail running race (no back up, no assistance,…).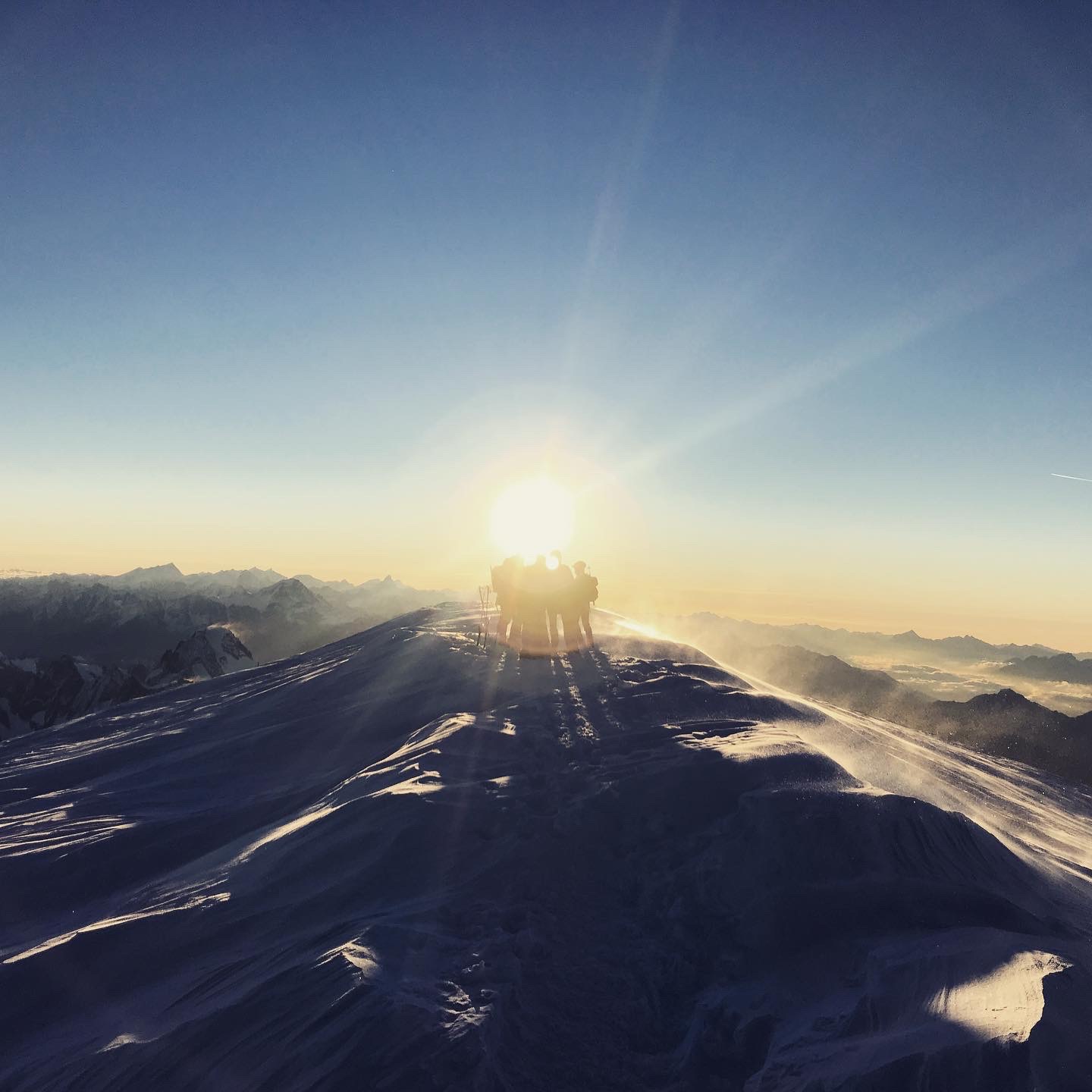 Searching Availability...
Itinerary
Included / Not included
Options
Détails
Itinerary
Day 0:  
Let's have a drink in Chamonix to start knowing each other and check your equipment.
Day 1 : Acclimatization day

We highly recommend you to take a prep day with your guide to check everything is all right and to give you a little acclimatization. No matter how fit you are, how fast you can run, hike, cycke down in the valley, it is a complete different story above 4 000m. Since our bodies all react differently it is very important to acclimatized before. Contact us for advices on how to get as ready as possible.
Please note that we are all different and our response to altitude can be very different from each other. Acclimatization, even for fit trail runners, is the key to the summit. If you manage to train beforehand at least twice (walking, hiking, etc.) between 2 500m and 3 000m of altitude, it will help you prepare well.
The DAY:
According to weather forecast, you will decide with your guide at what time you will leave from Les Houches 1 000m. It is usually around 8/9pm, meaning you have all day to rest and prepare you stuff for the ascent.  
It takes about 4 hours to get to Tête Rousse hut, where we will change our shoes and get changed from a "trail running" to an more "alpine" style: harness, crampons, mountaineering boots, helmet…We'll also have a drink and some "breakfast".
From there, it is another 3 hours to get to the Gouter hut at 3 800m. This is the most difficult part because it is a mixed terrain, with some easy scrambling but quite tired when you are not use to it. And the altitude starts affecting us too. 
After the Gouter hut, we are on glaciers and it is easier to find our rythm even if we get higher and higher. After Vallot observatory, at around 4300m, we will follow a snow ridge all the way to the summit. Slope is steeper too, but summit is getting closer!!!
From the Gouter hut it takes normally around 5/6 hours. 
In total, it is a 10 to 15 hours effort to reach the summit and another 5 to 7 hours to go down by the same itinerary.  
We should get back down in this afternoon of day 3.  
We recommend to sleep the night in the valley and not leave right the way back home after a 20 hours climb without any sleep…  
A guide can reasonably take care of 2 people maximum during the Mont Blanc ascent. For the one push ascent, please make sure you know each other well with ideally the same physical level. You need to know and understand that it won't be possible to split the group and leave one of you on the side while the others will still climb for safety reason.
Be aware that the program can be modify, changed, adapted by your mountain guide according to weather forecast , mountain conditions and your physical abilities. 
We will not organize group because this kind of ascent is really sensitive on your fitness and from our experience, mixing people that doesn't know each other before leads to frustration. A mountain guide will not take more than 2 people on his rope.  
Included / Not included
Options
Détails